Telecoms company EE has revealed plans to sell a 4G antenna that promises to bring fast broadband internet to thousands of homes in rural areas.
EE's Simon Till said the "shoebox-size" antenna would let more people access the company's 4G broadband service.
The company said it had delivered speeds of 100Mbps to homes during a trial in Cumbria.
One analyst said the plan would appeal to people who could not get fast speeds through a fixed broadband line.
"We've heard of farmers doing a similar thing, putting up masts on their edge of their property near where the signal is," said Andrew Ferguson of the news site Thinkbroadband.com.
"The DIY approach has been bubbling away, but EE offering it as a service makes it a lot more simple."
EE already offers home broadband, either through a fixed phone line or over the 4G mobile network.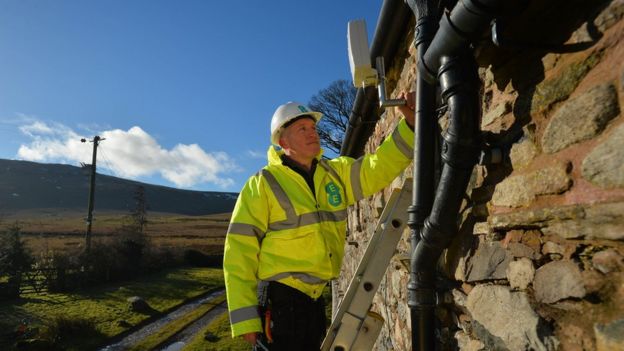 It said its new antenna installation service was designed for homes in areas where fixed line service was poor or not available at all.
Telecoms watchdog Ofcom defines decent broadband as a speed of about 10Mbps to download.
At that speed, downloading a high-definition film could take up to 90 minutes, according to Ofcom.
EE said its 4G home broadband could deliver download speeds of up to 100Mbps and upload speeds of about 10Mbps.
However, it is possible that areas too remote for fixed broadband also have poor 4G coverage.
"There may be instances where that's the case, but our network reaches 90% of the UK," said Mr Till, referring to EE's geographic coverage across the UK.
"If you overlap our network with the homes that get less than 10Mbps fixed broadband, you get to about 580,000 homes that we could reach."
Reduced interference
EE will charge people £100 to have a broadband antenna installed on their home.
The device will typically be mounted high up, facing the nearest EE mobile phone mast.
It will be connected by a cable to a modem and wi-fi router inside the property, to give the residents wireless internet access.
Placing a large antenna outside reduced interference from walls and double glazing, said Mr Ferguson.
"Stick the antenna outside and you get a much better signal," he told the BBC.
"Unfortunately, with it being 4G, that's where the data allowance comes in. If you're bingeing TV box sets you'll get through that pretty quickly."
EE said its most expensive package would give homes a 200GB monthly data allowance for £60 a month.
Similarly priced fixed broadband packages are usually advertised as "unlimited".
Mr Till defended the data allowance and said EE's home broadband customers typically used about 150GB a month.
"If your home has access to fixed broadband, then that would probably be the right choice, but if you can't then this is an option," said Mr Till.
"We're in the business of providing connectivity to those that don't have it."

Analysis:

By Rory Cellan-Jones, technology correspondent
Having hit a target of giving 95% of homes access to superfast broadband, the government now has a thornier problem – working out how to connect the remaining 5%.
So there will be a welcome for EE's initiative, which appears to be a solution to delivering the Universal Service Obligation – the right to demand a broadband connection of at least 10Mbps.
The government had always said that various technologies, including 4G, would need to be deployed if every corner of the UK was to be given an acceptable connection.
But rural broadband campaigners will still need convincing that EE's 4G home service can deliver acceptable speeds at a reasonable price.
Source: http://www.bbc.com/news/technology-42995210