By Harry Pettit
Elon Musk's plan to launch more than 4,000 internet-beaming satellites into space has hit resistance from a US regulator.
The billionaire's rocket firm SpaceX wants to launch satellite internet in 2019, with initial tests planned for the end of this year.
But the US Federal Communications Commission (FCC) will now delay the project due to concerns over the satellite network interfering with competing systems.
Selling hyper-speed broadband from orbit will be a key revenue for SpaceX beyond its pioneering private rocket-launching service.
The project, which would triple the total number of satellites in orbit, would bring high-speed internet to all corners of the globe, vastly undercutting existing services in coverage and cost.
The FCC's setback could force power reductions on SpaceX's satellites and limit the radio wave spectrum they can use, restricting their effectiveness.
The regulator will ask United Nations agency the International Telecommunication Union how these new satellite systems share and coordinate the spectrum they use, according to a draft set of rules seen by Bloomberg.
A vote on the new rules is due on Tuesday, with the FCC saying its proposals are a response to a new generation of communications satellites.
The orbiting networks will form constellations of thousands of internet-beaming devices.
Both SpaceX and fellow rocket-making firm Boeing have recently submitted plans, with the latter proposing a fleet of 2,956 satellites.
OneWeb, a company back by Virgin and Qualcomm, has asked permission to tap into the US market using thousands of UK-authorised satellites.
SpaceX plans to release more than 4,000 satellites into orbit in instalments between 2019 and 2024.
The plans will increase the number of satellites in space by 300 per cent and will create worldwide internet that could offer speeds of up to one gigabit per second.
This is around 100 times faster than current home broadband.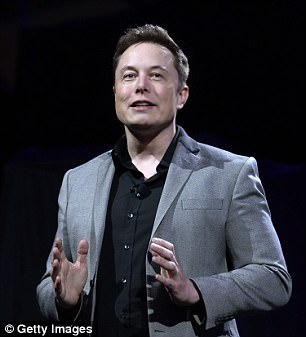 In a Senate hearing on US Broadband infrastructure in May, SpaceX vice president of government affairs, Patricia Cooper, revealed the company wanted to launch their operations in 2019.
The network of satellites could provide 'fibre-like' speeds for a large area, Ms Cooper said.
The first rocket to go up will be SpaceX's Falcon 9 rocket, which was designed to deliver humans into space.
Ms Cooper also said the company would like to see more funding for projects that increase broadband speed.
An initial application was filed by SpaceX with the FCC in November last year.
The California-based company, owned and operated by technology entrepreneur Musk, proposed an orbiting digital communications array that would eventually consist of 4,425 satellites, the documents showed.
The system will be able to provide broadband service at speeds of up to 1 Gbps per end user, according to the original application to the FCC filed in November 2016. The aim of this network would be to provide high-speed internet to people around the world (stock image)
'The system is designed to provide a wide range of broadband and communications services for residential, commercial, institutional, governmental and professional users worldwide,' SpaceX wrote in its application.
SpaceX's satellite project, which Musk previously said would cost at least $10 billion (£8.03 billion), was first announced in January 2015.
The documents, which include technical details of the proposed network, did not mention cost estimates or financing plans.
Financial backers of the company include Alphabet's Google Inc and Fidelity Investments, which together have contributed $1 billion (£0.8bn) to Musk's space launch firm.
Source: http://www.dailymail.co.uk/sciencetech/article-4921046/Elon-Musk-s-internet-beaming-satellite-plan-hits-roadblock.html